14 Incredible Experiences You can only have in Myanmar​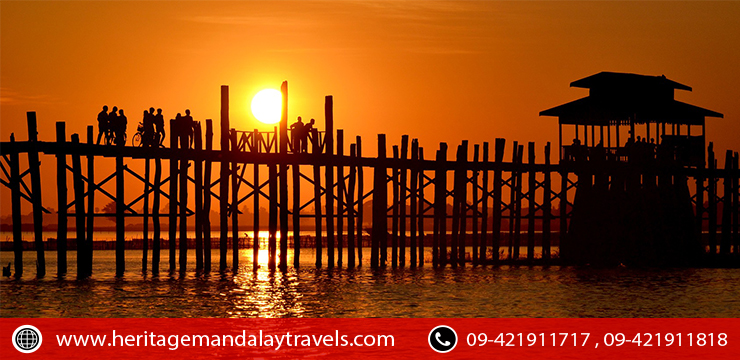 Myanmar is known for pickling its tea and fermenting its porridge, for constructing the longest of bridges and largest of Buddha statues. As the travel community continues to hear more of what fascinates about Burmese culture, the "Golden Land" remains somewhat of a treasure waiting to be discovered. Here are some of the most unforgettable adventures you can have while traveling in Myanmar.
Discover the details of Bagan from within its ancient temples.
Step inside Bagan's astonishing temples to discover new details and views of one of Myanmar's most traversed sites. Many have narrow passages to navigate, steep hidden stairwells to climb up and windowsills to peek through. Not all of the temples in Bagan are open to the public; those that are often come with a groundskeeper who may or may not show all a pagoda has to offer.
Wash down some fried field mouse with boozy coconut water.
Toddy is a fermented drink made from the sugary sap of palm trees. "Toddy huts" serving this extremely sweet, potent beverage are more commonly found in rural areas of Myanmar. Toddy is often drunk from the shell of a coconut and alongside unusual eats such as fried field mouse. There are several toddy huts on the outskirts of Yangon, or try finding a few joints to pop in for a swig while biking around Bagan.
Most people in Myanmar will become a monk or a nun at some point in their lives.
Since Buddhism is by far the predominant religion in Myanmar, local monasteries and nunneries see a lot of action – especially during major holidays such as Thingyan. Most Myanmar people temporarily become a monk or a nun for a few days at least once in their lifetime. It's treated as a very important event. Family members and neighbors gather for special ceremonies such as the head shaving.
Fill up on fermented porridge at Myitkyina's night market.
The prominent city of Myitkyina in Kachin State, Myanmar, hosts a bustling night market with an array of steamy food, colorful produce and fragrant flowers. A warm bowl of Kyat-Oo-Kazaw is what most locals go for, especially on chilly Myitkyina evenings. It's a sweet, lightly fermented rice and egg porridge that promises to warm the taste buds right up and is totally worth the potentially long wait.
The unique leg rowers of Inle Lake impress with their balance-defying act.
Perhaps the biggest draw to Inle Lake in Shan State is its leg rowers. Members of the Intha (lake people) community make a living by cultivating floating gardens and fishing. Balancing on one leg at the back of a small wooden boat while rowing with the other leg to get around is more than a sight to see. It's an art form.
Watch lotus plants become beautiful garments at Inle Lake.
Inle Lake is also one of the only places left in the world where travelers can experience the art of making gorgeous attire from the spun thread of cut lotus stems. This ancient practice has become a major tourist attraction for the area.
Ride over one of the world's oldest, slowest railway bridges.
Opened for transit at the turn of the nineteenth century, the Goteik Viaduct between Pyin Oo Lwin and Lashio in Western Shan State, is a ride to remember. Trains slowly inch along the trestle that bridges a deep gorge for approximately half a mile. Catch the train from Mandalay to Lashio for under US$5 to experience this extraordinary engineering masterpiece.
Crunch on the inside of banana stems for breakfast.
The inside of the flower stalk of a banana plant is a healthful and popular component of cuisine in tropical regions around the world. In Myanmar, it adds a slight crisp to mohinga — one of the country's most popular breakfast dishes. And, not only are banana stems tasty, they're spectacularly designed as well.
Count the number of boards while crossing the world's longest teak bridge.
Not only is U-Bein Bridge near Mandalay thought to be the world's longest teakwood bridge, it's also considered the oldest. Completed in the mid-1800s, the bridge stretches approximately 4,000 feet over the Taungthaman Lake near Amarapura. It's famous for monk sightings and sunsets — and monk sightings at sunset.
Yangon to Bago to Taungoo: The Perfect Day Trip
Looking for the perfect day excursion from Yangon by train? Venture in comfort to Taungoo via the Yangon to Mandalay route, stopping briefly in Bago to see the Mahazedi Pagoda. Once in historic Taungoo, a former dynasty capital of Myanmar, tour several of its famous sights. Among them are well-known bridges, markets, gardens and pagodas.
Birthdays aren't so self-centered in Burmese culture.
Several cultures adhere to a birthday celebration that revolves around the individual whose birthday it is. This isn't usually the case in Myanmar. Birthdays are a time for individuals to visit pagodas, offer up donations, and treat friends and family as opposed to being treated.
Irrawaddy river dolphins help people catch fish in Myanmar.
Small groups of endangered Irrawaddy river dolphins are found in a few locations around the world, but the ones in Myanmar are truly special. They're the only pod of Irrawaddy dolphin known to partner with humans in an effort to lure fish into nets. It's estimated that only 60-70 remain in an ever-shrinking stretch of Myanmar's Irrawaddy River.
Tea leaves are for eating as well as drinking in Myanmar.
Knowledge of Myanmar's fermented tea leaves (La-phet) is on the rise as this extremely popular local dish continues to gain international culinary attention. Pickled tea leaves are most often consumed in the form of a salad mixed with fried nuts and garlic, small shrimp, and a few chilies for an added kick.
Create fun facial designs with paste made from tree bark.
Pro beauty tip from Myanmar: Don't leave home without wearing thanaka. The thick, yellowish paste is mostly worn by women and children as a natural (healing) sun-block. Be on the lookout for thanaka to show up in the global skincare scene soon.
​
Source : https://theculturetrip.com/asia/myanmar/articles/the-most-stunning-train-journeys-in-myanmar
https://theculturetrip.com/asia/myanmar/articles/11-incredible-things-you-never-knew-about-myanmar
https://theculturetrip.com/asia/myanmar/articles/21-incredible-experiences-you-can-only-have-in-myanmar
10-11-heritagemandalaytravels.com